So the holidays are quickly approaching and it is time to do some shopping. The younger kids can sometimes be the hardest to shop for. They don't need a lot of toys and so many of their toys are so expensive. I have decided to put together a list of top toys this year for kids ages 0-2 to try to help give you some ideas and hopefully make your shopping a little easier.
1.
Fisher-Price Laugh and Learn First Words Smart Puppy
This toy teaches you baby first words with fun songs, sounds, phrases, and exciting hands-on activities. The lights and sounds are sure to delight them. There are 3 levels of learning for you to level up to fit the baby's age and skills. Designed for ages 9-36 months. Sells for around $30.
2. Fisher-Price Little People Disney Princess Magical Wand Palace A shake of the magic wand brings the Disney Princess Magical Wand Palace to life with colorful lights, magical sounds, and fun phrases. Little girls can play with their favorite Disney Princesses in each room. Designed for ages 16 months to 5 years. Sells for around $40-50.
3. Fisher-Price Little People Caring For Animals Farm This fun toy lets your little one be a farmer. Push the button to pop open the stall doors and hear fun songs and phrases. They can also open the hayloft, hatch some chickens, turn the silo and much more. So much for their little imaginations. Designed for ages 1-5. Sells for around $40.
4. Peppa Pig Family Home Playset with Lights and Sounds What young kid today doesn't like Peppa Pig and her brother George? Now they can play with Peppa's House featuring 7 rooms over 4 floors, and includes 13 never-seen-before accessories. They even get to hear the Muddy Puddles song when they "jump" in the puddle out front. Made for ages 2 and up. Sells for around $50.
5. Fisher-Price Laugh and Learn Servin' Up Fun Food Truck Your child can greet customers, work the register, make some food, and more. While they are engaged in all that super fun role play, toddlers are also being introduced to sizing and sequencing, advanced vocabulary, manners, taking turns, and more with fun songs, sounds, and phrases! 3 smart stages for ages 18-36 months. Sells for around $60-70.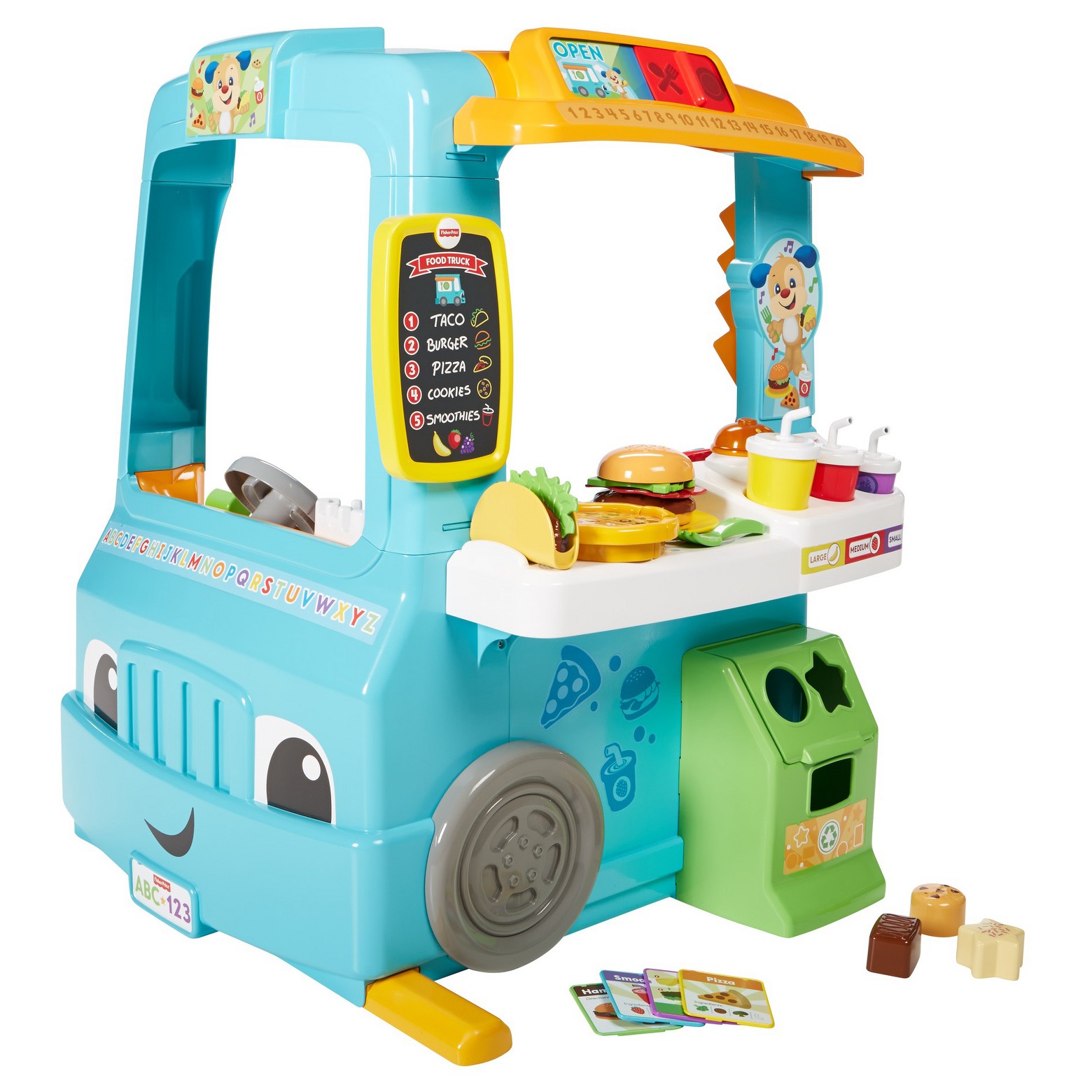 6. VTech® Sit to Stand Learning Walker This fun and interactive toy helps your baby advance from a crawler to a walker. Start them out with the easy-to-remove activity panel for floor play or on-the-go fun, then step it up with the fun-to-maneuver baby walker. Different toys, lights, and music are sure to keep them entertained. Designed for ages 9-36 months. Sells for around $20-30.
7. 2-IN-1 LEAPTOP TOUCH A fun learning laptop that teaches ABCs, numbers, games, music, and messages. Desogned for ages 2+ and sells for around $25.
8. DOLCE ACTIVITY ZEBRA This is a great toy for the youngest kids. Great for newborns and older, it is a cute, colorful little toy that has rattles, rings, mirrors, ribbons, and more! It will even play songs when kids pull its tail. Newborn and up. Sells for around $40.
9. GO! GO! SMART WHEELS RACE & PLAY ADVENTURE PARK This toy is one of THE HOTTEST toys for this age group this holiday season. Kiddies can launch Gavin the go-kart to the top of the play set with the catapult launcher, and watch as it goes around the 360-degree loop and off the jump ramp. Four SmartPoint locations add fun sounds, phrases, and sing-along songs that they are sure to love. Made for ages 1 and up, sells for around $40.
10. MCLAREN 570S PUSH SPORTS CAR This one is a cute little push toy designed like a McLaren 570S. It features a storage area under the seat and electronic sounds. Kids 18 months and up will love riding in this fun toy. Sells for around $80.
11. Sensory Ball Set by Sassy these are great for the younger kiddos to touch and chew on to get a taste of different senses and textures. Great for fine motor skills, sensory play, and a fun time. Good for ages 0-12 months. Sells for $10 on Amazon.