Scrapbooking used to be a big part of my life. I had all kids of types of paper and stickers and die-cuts. Once I had kids I thought, "I am going to scrapbook all about everything they do." Haha not even close. All of my supplies have been put up for years now and I haven't scrapbooked in probably 7 years now.
I soon hope to get back into scrapbooking, and hope to do so with the help of Scrapbook.com and so can you.
Purchase scrapbooking supplies from the Scrapbook.com Superstore!
They also have online classes to teach you how to scrapbook if you are new to it, or maybe need to brush up on your skills like I do.
There are so many things to think about when scrapbooking. Besides choosing the pictures and items you will put into it, you need to decide what adhesives you will use to attach the items. There is glue dots, liquid glue, glue sticks, tape.
You also need to decide what type of album you will be using. Will you be doing a general scrapbook and maybe want a plain album? Are you scrapbooking for a theme like a birthday or vacation? Try to find an album that matches your theme.
To make a really cute scrapbook you have to use different types of paper. There are so many options available out there I could spend hours trying to find papers to fit all the experiences I have had and want to share. They have paper types for just about everything.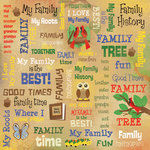 Once you get your pictures in it's time to decorate. This is the fun part. Diecuts and stickers are great ways to decorate. Embellishments are also nice. All 3 ideas come in so many designs it'll make your head spin.
If you are new to scrapbooking, or are like me and it's been a while or you just need new supplies head on over to Scrapbook.com and check out what they have to offer.